The Lure of Oscar: A Look at the Mightiest of All Award Shows

It's Oscar time again, and The Paley Center for Media is offering you one-stop shopping for an amazing amount of history and facts about the show itself. For instance: Did you know that "Samantha"s mother (yes, we mean from Bewitched, though she was a good film and radio actress as well) was the first woman to play a hosting role for the ceremony? We're betting you didn't.
Our resident Academy Awards expert Barry Monush offers a compact history of the mightiest of all awards shows: the highs and lows throughout its eighty-four years, plus a look at that most signature of elements for each show, the hosts. There is also a blog or two on other Academy Awards curiosities and missteps; and your chance to vote on your favorite Oscar moments and hosts.
| | | | | |
| --- | --- | --- | --- | --- |
| History of the Oscars, plus our POLL: What is your favorite moment in Academy Awards history? | | Hosts of the Oscars, plus our POLL: Who is your favorite host of the Academy Awards? | | Academy Awards Ceremonies and Oscars-related programming in the Paley Center Collection |
Oscars-Related Paley Center Blog Posts:
Worlds Apart: Best Doc vs. Best Picture Nominees (February 15, 2012)
by Ron Simon
At last ... a blog about the Oscars! (February 28, 2011)
by Barry Monush
Best Supporting Actor in a Leading Role (February 22, 2011)
by Barry Monush

We are screening the films Nominated for the Academy Award, Documentary, Long & Short, Sat & Sun, Feb. 25 & 26

The Paley Center is having an Academy Awards Viewing Party featuring LIVE onsite commentary by A.O. Scott and David Carr of The New York Times, on Sunday, February 26 at 7:00 pm.

Can't get to the Paley Center? Join the fun at home by making oscars.NYTimes.com your second­screen companion to the Academy Awards broadcast, including A.O. Scott & David Carr's live commentary from the Paley Center.
The Academy Awards Continues...
Paley Overview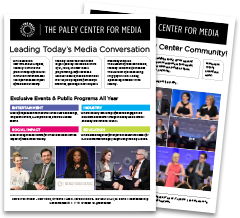 Become a Member