The Paley Center Tribute to John Lennon

| | | |
| --- | --- | --- |
| | Twitter user ToniBolognaxTM visited the gallery, tweeted using #LennonPaley, and her tweet became part of the exhibit! | |
Funding for the Paley Center's John Lennon tribute is provided by
The Blanche and Irving Laurie Foundation, Advertising Week, and
Richard Kandel through the Theodore & Renee Weiler Foundation.
Watch the Associated Press's story on the Paley Center's John Lennon tribute.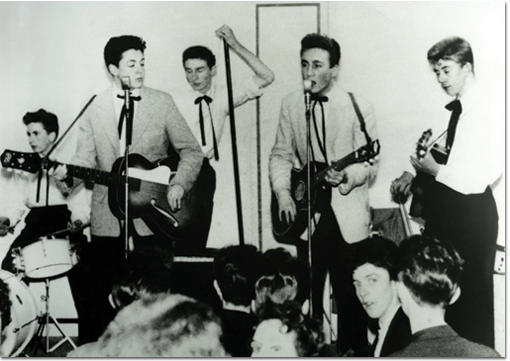 THE QUARRYMEN: LESLIE KEARNEY 1957 © 2010 THE QUARRYMEN
The Paley Center Tribute to John Lennon Continues...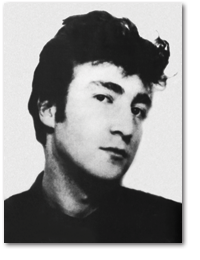 In the Steven Spielberg Gallery
October 6, 2010, to March 6, 2011
In 1971 John Lennon reflected on the Beatles phenomenon, stating that "the first thing we did was to proclaim our Liverpoolness to the world." Because of media, people around the globe quickly seized the Beatles' style and sensibility, often not realizing the roots of their revolution. As we commemorate John Lennon's 70th birthday, the Paley Center returns to the city that nourished him and his bandmates. In these rare photographs we see the beginnings of the Beatles, whose music would eventually transform society and culture here, there, and everywhere.
This exhibit, cocurated by the Paley Center's Ron Simon with Beatles scholar Martin Lewis and Quarrymen founder/member Rod Davis, is the first comprehensive look at John in his beloved Liverpool.
Also screening in the Spielberg Gallery is the documentary
Gimme Some Truth: The Making of John Lennon's Imagine Album
(2000).

---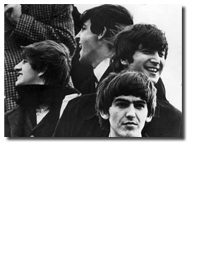 The following John Lennon documentaries are available to watch in the Paley Center's Library.
These four essential documentaries reveal and illuminate his artistic, political, and private facets.
---