Seventy Years of Pop Idols and Audiences
Sinatra and the Bobby-Soxers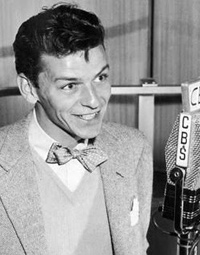 In August 1943, a concerned citizen wrote a letter to the Federal Bureau of Investigation. The author wanted to draw bureau director J. Edgar Hoover's attention to recent radio programs on which Frank Sinatra had appeared. He wrote:
The other day I turned on a Frank Sinatra program and I noted the shrill whistling sound, created supposedly by a bunch of girls cheering. Last night as I heard Lucky Strike produce more of this same hysteria I thought: how easy it would be for certain-minded manufacturers to create another Hitler here in America through the influence of mass-hysteria! I believe that those who are using this shrill whistling sound are aware that it is similar to that which produced Hitler.
Seventy Years of Pop Idols and Audiences CONTINUES...
– Sinatra and the Bobby-Soxers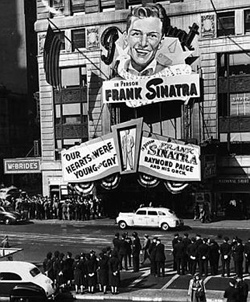 This letter was an early contribution to an FBI file that would become swollen with documents attesting to the best-remembered facets of the Sinatra legend: the swinging bachelor whose Rat Pack built Las Vegas, the alleged (and sometimes confirmed) Mafia ties, the political alliances with Kennedy and, later, Reagan. But in the mid-1940s, none of that was part of the portrait of the ascendant popular singer. When he left the Tommy Dorsey Orchestra and began performing as a solo act during World War II, the greatest threat that Frank Sinatra posed to national security was through the response he elicited from adolescent girls.
They were called bobby-soxers, his young fans, named after the rolled-down hosiery that peeped above their saddle shoes. Their fanatical behavior is familiar to us now, ensconced as we are within an intense celebrity culture. But in October 1944, outsiders did not understand why girls were in line outside of the Paramount Theatre at 3:00 am, hours and hours before the box office opened, in defiance of New York City's juvenile curfew, to hear a common-looking balladeer sing a commonplace love song like "All or Nothing at All." Theater ushers were not trained to handle the girls who swooned inside or outside the theater—some from anticipation and excitement, and some from among the cohort of fans who were mentally prepared to sit through all six of the day's scheduled performances, but who had neglected to pack their lunches. The city police force couldn't predict that a crowd of 30,000 outside of the theater would overwhelm its hundreds of police officers, when, after the day's first show, all but 250 of the 3,600 ticketholders refused to leave their seats—as was their privilege, according to theater's custom—causing those waiting in line to riot in frustration. Who could have predicted that a throng of girls would smash windows, trample passersby, and even, according to one report, overturn a car?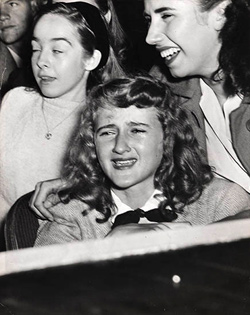 If adults weren't ready for the Frank Sinatra phenomenon, it was because they couldn't have seen anything like it before. It was only in the early 1900s that social scientists began to declare that there was a distinct developmental period between childhood and adulthood: "adolescence." The social science category overlapped with the social world of high school, which was becoming a more universal experience as the century progressed. In 1900, slightly over 10% of Americans 14-17 years old were enrolled in high school; by 1940, that number had risen to 71.3% (Schrum, 12). The shared experience of high school led to the creation of a shared social category: "teenage." The marketplace encouraged young people to identify themselves with this newly defined period of life. For girls, the landmark event was the publication of the first magazine for them, Seventeen, which debuted in 1944. Then as now, the magazine combined health and beauty tips, guidance for difficult social situations, forward-looking college and career advice, and articles on topical political subjects. Seventeen spoke directly to a population of girls who were ready to put away childish things and embrace at least some of the responsibilities and privileges of adulthood.
Fandom is not an individual activity; we seek out others to share and therefore validate our preferences, loves, and obsessions. Home record players, then only about fifty years old, allowed girls who couldn't see Sinatra live to create their own concerts, gathering in each other's homes to listen and sigh. One former bobby-soxer, author Martha Weinman Lear, remembered, "[W]e would gather behind locked bedroom doors, in rooms where rosebud wallpaper was plastered over with pictures of The Voice, to practice swooning. We would take off our saddle shoes, put on his records, and stand around groaning for a while. Then the song would end and we would all fall down on the floor" (Mustazza, 48).
Radio was essential to the creation of Sinatra's community of fans, who could hear him on Your Hit Parade, during which he sang the top songs of the week, and then on his own shows, Songs by Sinatra and The Frank Sinatra Program. On the radio, listeners could hear the excitement of the audience, fanatics like themselves, whose excited screams punctuated every performance. Sinatra was the center of attention, but his fans were part of the show, too. Indeed, the unprecedented shrill of their screams could drive a man to see the potential for an Axis conspiracy lurking underneath them. (Listen to a radio clip from The Frank Sinatra Program above.)
Contemporary adult commentators gave a number of different explanations for the response Sinatra elicited in girls, the outbursts they read about in the papers, the behavior they witnessed in their own homes. He was, alternately, a stand-in for the boys away at war, or an Alger Hiss story for ethnic immigrants and economically marginal. When interviewed, Sinatra provided his own guesses, but he couldn't fully account for his exceptional popularity, attributing his success to a universal desire for romance. (Watch a clip of Walter Cronkite interviewing Sinatra above.)
When former bobby-soxers remember Frankie of the bow-tie years, they emphasize that the Voice was seductive. Janice Booker saw her generation of bobby-soxers using Sinatra to express the beginnings of feelings otherwise inexpressible. Writes Booker, "[h]e was safe because he was unattainable; unattainable because he was a celebrity, and unavailable because he was married with children" (74). Martha Lear recalls a feeling less proto-sexual and more actively sexual: "Whatever he stirred beneath our barely budding breasts, it wasn't motherly. And the boys knew that and that was why none of them liked him, none except the phrasing aficionados... [T]he thing we had going with Frankie was sexy. It was exciting. It was terrific" (48).
In the highly restrictive prevailing sexual mores of the 1940s, girls' options for exploring their sexuality were severely limited. Through movies, radio shows, and popular novels, girls were taught that sexual intercourse was for marriage only. Their own magazine, Seventeen, instructed girls to be extraordinarily careful about the liberties they allowed their dates to take; the magazine advised against necking and petting—and anything further down the line was definitely out of the question. Discouraged from loving in private, teenage girls did love in public—they loved their Frankie, fiercely, unashamedly, loudly. They made a spectacle out of themselves, they made a star out of Frank Sinatra, and they made a social space into which generations of girls following would continue to scream and faint.
"What Girls Want: Seventy Years of Pop Idols and Audiences" pages: 1 | 2 | 3 | 4 | 5