Join Us In Midtown Manhattan
PaleyGX: Your Ultimate Gaming Xperience.
FREE and open to the public.
Regular Hours:
Wednesdays to Sundays 12:00 to 6:00 pm;
Thursday evenings until 8:00 pm.
Closed Mondays and Tuesdays.

We think big, so here's what you'll find: so many of the most popular games on Nintendo Switch, PlayStation 4, Xbox, and high-performance PCs, plus cutting-edge virtual reality titles on Oculus—all yours to play FREE here at the Paley Center.
 
Together with family and friends, immerse yourself in the most exciting and challenging games across platforms.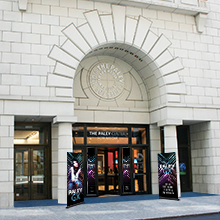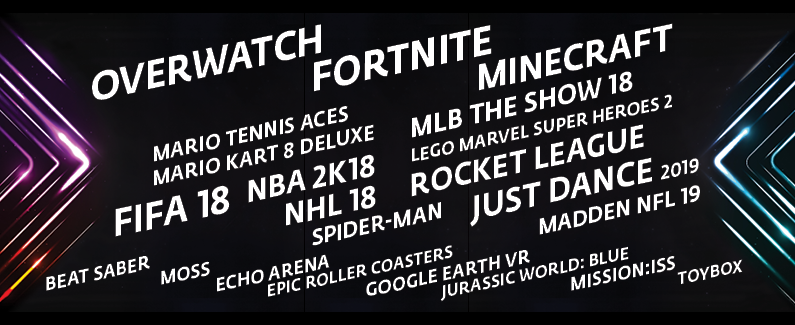 Obsessed with Fortnite, Minecraft, or Overwatch? We've got you covered.
 
Sports-crazed? Check out FIFA 18, MLB The Show 18, R.B.I. Baseball 18, NBA 2K18, NHL 18, and Madden NFL 19.
 
Crushing on Mario? Dabble in Mario Tennis Aces and Mario Kart 8 Deluxe.
 
Dancing Queen/King? Hoof it up in our lobby with the latest iteration of Just Dance 2019.
 
Plus, LEGO Marvel Super Heroes 2, Rocket League, and more are all waiting for you, along with an opportunity to play on the giant screen in our 200-seat Bennack Theater (when available, Saturdays and Sundays only).
 
PaleyGX is also your portal to the 3D World as you choose to roam among the realms of Beat Saber, Moss, Echo Arena, Google Earth VR, Mission:ISS, Epic Roller Coasters, Toybox, and Jurassic World: Blue where you become the astronaut, among others!
Paley Gaming Xperts—Just Ask Us!

When you arrive, go to the front desk for your tickets. Then you will be greeted by a Paley Gaming Xpert to get you set up.
• Visitors can reserve up to (4) Gaming Zones per day, with a limit of only (1) 25-minute timeslot in each Zone.
• If there are empty timeslots, gamers may be permitted to play for longer at the PGXpert's discretion.
• You may only play on the console that you have reserved. Please speak to a PGXpert.
• For the safety and enjoyment of all, please take a look at the PaleyGX Code of Conduct.
Paley Members-Only Advance Reservations

There are many benefits to being a Paley Center Member, including presale access all year to PaleyLive and PaleyFest events, at a discounted price.
 
And for gamers: you can reserve your spot online, up to one week in advance of your visit. To take advantage of this benefit, join us now or call 212.621.6780 to speak to a Membership Representative.
 
To reserve, choose the day of your visit. You will need to enter your Membership ID number on Ticketweb.
Wed., Jan. 16
PGX will be closed on Thu., Jan. 17
Fri., Jan. 18
Sat., Jan. 19
Sun., Jan. 20

Wed., Jan. 23
Thu. Jan. 24
Fri., Jan. 25
Sat., Jan. 26
Sun., Jan. 27


The next week's schedule will be posted every Monday at noon. Online advance reservations close at 10:00 am on the day of your visit. After that time please reserve in person.

Please note: if you are not present 10 minutes after your start time, your reserved console will be given to someone else.
   GAMES on Nintendo Switch, PlayStation 4, Xbox, and PC

• FIFA 18


• Fortnite


• Just Dance 2019


• LEGO Marvel Super Heroes 2


• Madden NFL 19


• Mario Kart 8 Deluxe


• Mario Tennis Aces


• Marvel's Spider-Man


• Minecraft


• MLB The Show 18


• R.B.I. Baseball 18


• NBA 2K18


• NHL 18


• Overwatch


• Rocket League


• Street Fighter V

and more!

• Beat Saber


• Echo Arena


• Epic Roller Coasters


• Google Earth VR


• Jurassic World: Blue


• Mission:ISS


• Moss


• Toybox

and more!

* Games and schedule are subject to change.
Stay Connected with Paley

Get all the updates and news on "meet and greets" with your favorite streamers, plus gaming tournaments, and many other events.