Become a Paley Member today!
You can be part of the Paley Center community as an General Member, Patron Member, Media Council Member, International Council Member, or Corporate Member. All include very special benefits for YOU while supporting the Paley Center's essential programs. Call 212.621.6780 to upgrade your Membership.
The Paley Center is a 501(c)3 nonprofit organization; our work and programs are dependent on your support.
Give the gift of media
Paley Center Membership is the perfect gift for the media lover in your life! Your generosity will bring your friends and family the benefit of invitations, and presale and ticket discounts to sold-out panels with the cast and creative talent behind TV's best programming. Beyond that, you'll be helping to make possible the critical work of the Paley Center to bring facility and comprehension of all the components of media to the 10,000 students participating in our Education Program this season. If you have any questions, call the Membership Department at 212.621.6780.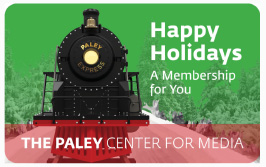 Click the box labeled "Membership is a gift for someone else."
Support The Paley Center for Media
Your fully tax-deductible donation assists the Paley Center to fulfill its nonprofit mission to preserve, explore, and educate through media.
Your gift helps us to maintain and expand the renowned treasure, the Paley Archive, a public collection of over 160,000 television and radio programs spanning 100 years, and to interpret the cultural, creative, and social significance of media in ways that both entertain and inform. You'll also be supporting recognized education programs serving 10,000 students and educators annually, including Teen Transmitters, a paid internship that gives aspiring youth critical skills and experience to get their foot in the door. This brings public high school students from across NYC together with media arts professionals and introduces them to the creative and artistic process and methods of media creation, providing them with best-in-class networking and career development experiences, and introducing them to pathways to careers in media arts and related industries. More than ever before, paid career training programs are vital for teens. Help us continue to grow our mission-driven initiatives including Teen Transmitters, building a diverse media workforce of tomorrow. The Paley Center for Media is a 501(c)(3) nonprofit organization.