Exclusive Community:
Paley International Council
Co-chaired by Frank A. Bennack, Jr. and Henry A. Kissinger, the distinguished Paley International Council is a membership community comprised of the world's most important entertainment, media, and technology executives. The Council provides advice and guidance on the Paley Center's global programs and initiatives, including the renowned Paley International Council Summit.
Paley International Council Summit, often referred to as the "Davos of Media," brings together global leaders and CEOs of the world's most important media companies, to advance the exchange of ideas and to foster a sense of community. The Summit was first held in 1995 in Italy, and, over the years, has been held in China, South Africa, Germany, Austria, India, Monaco, Spain, France, Turkey, Mexico, and the United Kingdom.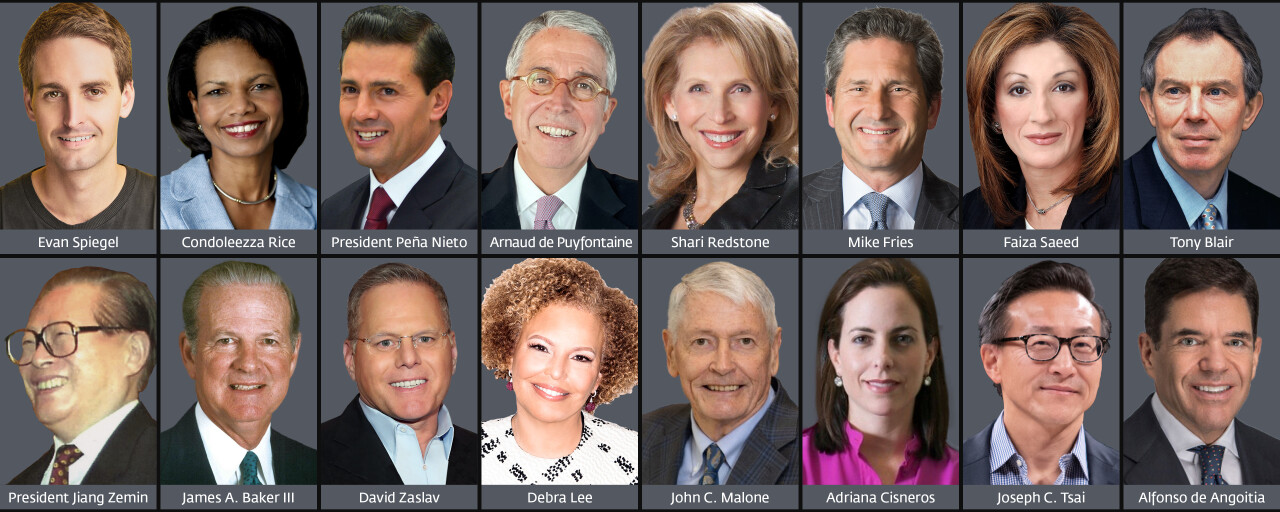 Past & Current
Summit Delegates Included
• Christiane Amanpour
• Alfonso de Angoitia
• Former Secretary of State James Baker III
• David Baszucki
• Commissioner Gary Bettman
• Britain's Prime Minister Tony Blair
• Michael Bloomberg
• Aryeh Bourkoff
• Spain's King Juan Carlos
• France's President Jacques Chirac
• Adriana Cisneros
• Barry Diller
• Mike Fries
• Alessandra Galloni
• Commissioner Roger Goodell
• Angelina Jolie
• Steve King
• Former Secretary of State Henry Kissinger
• German Chancellor Helmut Kohl
• Ynon Kreiz
• Debra Lee
• Alex Mahon
• Commissioner Robert D. Manfred, Jr.
• Former Director of the FBI Robert S. Mueller
• James Murdoch
• Rupert Murdoch
• Mexico's President Enrique Peña Nieto
• Arnaud de Puyfontaine
• Shari Redstone
• Former Secretary of State Condoleezza Rice
• Brian Roberts
• Commissioner Jessica Rosenworcel
• Faiza Saeed
• Sheryl Sandberg
• Ted Sarandos
• Eric Schmidt
• Commissioner Adam Silver
• Evan Spiegel
• Phil Spencer
• Joseph C. Tsai
• Hans Vestberg
• Jennifer C. Witz
• Christopher Wray
• Strauss Zelnick
Please note: titles reflect positions at the time of participation.
Paley International Council—$10,000
(By application; non-transferable)
Seat on the prestigious Paley International Council
Four (4) Delegate passes to the Paley International Council Summit
Priority during the Paley International Council Summit Q&As
Priority access to seating at the Paley International Council Summit
VIP invitations and opportunity to participate in the Paley International Council Program Series
VIP tickets to special events virtually or at the Paley Center in New York*
Company name included as part of the esteemed Paley International Council on the Center's website and in Annual Report
Dedicated Paley Center concierge to assist with Member benefits
VIP Access to Paley Industry events
Priority during the Paley Industry programming Q&As
Additional in-person benefits
o Four (4) VIP tickets to the Chairman's Opening Night reception of the Paley International Council Summit
o Exclusive VIP access to the Paley Center in NY for hosting business meetings (up to four (4) times per year*)
o Preferred Council rates for use of the Paley Center in NY for private events
*Subject to availability
To see the Paley Center's International Privacy Policy, please click here.
Paley International Council
Member Companies
Allen & Company LLC
Alliance Media
Altice USA
AMC Networks
Apple, Inc.
A-Rod Corp.
Bloomberg Associates
Cisneros
Citi
Cravath, Swaine & Moore LLP
Doğan Group
Discovery, Inc.
Electronic Arts
ESPN
FOX
Globo Media Group
Globo Ventures
Grupo Salinas
Grupo Televisa
The Guardian
Hasbro, Inc.
Hearst
Hill+Knowlton Strategies
Integrated Media Company
Interpublic Group
Janlison SL
John S. and James L. Knight Foundation
JMCMRJ Foundation
Kissinger Associates, Inc.
Liberty Global
LinkedIn Corporation
LionTree LLC
LUPA Systems LLC
Major League Baseball
McKinsey & Company
Microsoft
National Football League
National Hockey League
NBCUniversal
Nielsen
Paul, Weiss, Rifkind, Wharton & Garrison LLP
Pearson
The Procter & Gamble Company
Publicis Groupe
Riot Games
Ryan Seacrest Enterprises
SESAC
Snap Inc.
Spotify
Take-Two Interactive Software, Inc.
Tyler Perry Studios
Ubisoft
Univision Communications Inc.
Verizon
ViacomCBS
Vice Media
Vivendi
The Walt Disney Company
Warner Music Group
WarnerMedia
William S. Paley Foundation
WndrCo
Wolf Entertainment
WPP
List current as of April 2021